Our Teachers
ABC Staff 2022
Lisa - Swim England Level 2 Teacher
My name is Lisa, I gained my Swim England level 1 and 2 teaching qualifications in July and October 2018.
I have been working with ABC whilst doing my qualifications and since become part of the team as a level 2 swimming teacher taking one to one lessons which I love doing. It is amazing to be part of teaching both children and adults and see their achievements week by week. I thoroughly enjoy teaching and am happy to be involved with such an amazing team at ABC.
I have always had an interest in swimming as a child i used to swim for Greenwich. I have a degree in physical education and sport and have worked within the leisure industry (health and fitness) so I have always had an interest in people's progressions through a particular sport or activity.
I work at ABC alongside my other job which involves working in a special needs school which I also love.
I have a 4 year old son who also loves swimming. Since taking him to mother and baby swim lessons when he was 6 months old and watching him progress to pre-school swimming on his own at aged 3, watching his confidence continually growing inspired me to want to become a swimming teacher and be involved in this amazing transformation for a swimmer.
Danielle - Swim England Level 2 Teacher
I have been involved in swimming and synchronised swimming since I was seven, at both club and national levels.
I have my ASA Level 2 qualification and enjoy working at ABC swim school with both the friendly teachers and children. I thoroughly enjoy swimming and love teaching the sport.
Magda - Swim England Level 2 Teacher
My name is Magda Waldron and I am married with a daughter.
(who loves swimming and swims with ABC).
I swam for Southwark in my early teens and I still love swimming today. I became a swimming teacher in 2004 completing my level 2 teachers certificate and unit 4 pre-competition in 2006. In 2005 I qualified as an adult and child teacher which I love. I enjoy teaching all ages and levels. I feel very lucky that I have a job that I enjoy so much which gives me an amazing reward. I have worked for Alison at ABC since 2005. I love working for ABC as Alison is a great boss, a fantastic mentor and we are a great team.
Rachael - Swim England Level 2 Teacher
I am a lifeguard trainer and I run lifeguard and first aid courses as well.
I have worked for ABC for the few year and I have really enjoyed working there. I am also now a Swim England tutor training new swimming teachers I find it very rewarding to watch individuals as they build confidence and master the swimming techniques and teaching skills. When I am not working or looking after my two girls I like to listen to music, go shopping and spend time with the family.
Tim - Swim England Level 2 Teacher
I hold the ASA Level two Award in Teaching Aquatics.
I qualified in July 2013 as a level 1 and have been teaching in a support role to the fantastic Level Two teachers at ABC since March 2014. I have now gained my level 2 teaching aquatics level 2. I love working with such friendly, dedicated and knowledgeable teachers at ABC. The children are a great cross section of ages, backgrounds and abilities and I enjoy trying to get each one to achieve their best every week and progress to being confident swimmers.
Zoe - Swim England Level 2 Teacher
I have my ASA level 2 Swimming Teacher qualification.
I learnt to swim at ABC Swim School. I started lessons in the baby and toddler lessons and have achieved my skill with encouragement and fun filled lessons. I now training to be a personal trainer. I have now been helping at ABC swim school for over 4 years and still enjoy taking part. I love working with the younger children and helping them achieve something they haven't been able to do before and look forward to help more children achieve their future goals.
Tilly - Swim England Level 2 Teacher
Tilly - Swim England Level 1 Teacher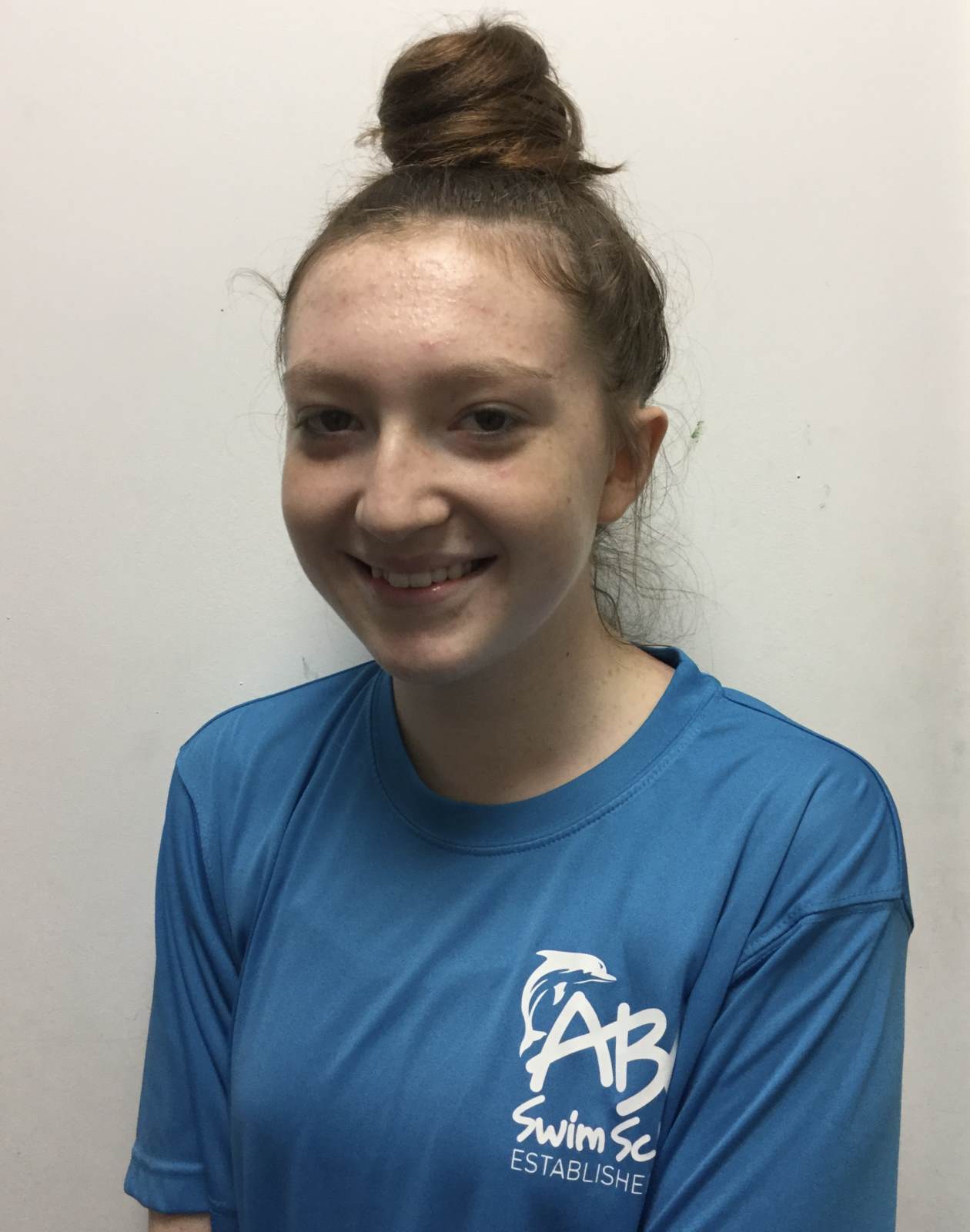 Swimming has always been a big part of my life so the natural thing to do was my Level 2 Teaching swimming qualification in June 2020. I love helping people grow in confidence in the water and watch them become better and better.
Morgan - Swim England level 1 Teacher and RLSS Lifeguard